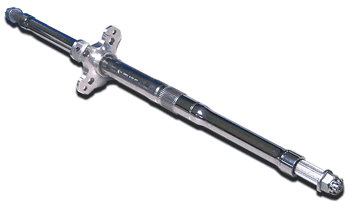 Lone Star Racing Axcalibar Axle, TRX 250R
Original price
$459.00
-
Original price
$459.00
The Lone Star Racing Axcalibar Pro Racing Axles are one of the most highly recommended axles on the market for both racers and recreational riders. Each axle is backed by a LIFETIME WARRANTY unsurpassed by any other axle manufacturer. Each axle is precision machined to exact OEM specifications so all stock or Lone Star Racing accessories can be used. The axles are built from a special stainless material so you no longer have to worry about chrome chipping or rust. Axcalibar axles are easy to install and vastly improve the stability of your ATV while providing extraordinary strength and radiant looks. Axle is fully adjustable for each riders needs.
Fits 1986-89 models.

Fits 1985 ATC250R but you will be required to use 1986-89 TRX250R style sprocket and sprocket bolts. Might requrie use of our Anti-Fade locknut.

Adjustability is from +1" to +4" wider than stock.
Includes billet aluminum sprocket hub.
**MUST RETURN WARRANTY CARD TO LSR WITHIN 30 DAYS OF PURCHASE, OR AXLE IS NOT COVERED UNDER WARRANTY**